Affordable Zero Net Energy Webinars
These informational webinars were part of a California Energy Commission and SoCal Gas RD&D and Energy Efficiency Programs-funded project "Affordable Zero Net Energy (ZNE) Homes." The two-part webinar series provided brief introductions to the fundamentals of and approaches to ZNE Homes. Further, the webinars described the development and monitored performance of two affordable ZNE homes in Stockton, CA using integrated energy efficiency measures, such as advanced framing methods, right-sized HVAC systems and on-site renewable energy. The two ZNE homes were a compare-and-contrast exercise looking at all-electric vs. mixed-fuel systems.
A ZNE best-practices book was written as part of this project. The book is intended for builder-developers, their purchasing agents, project managers and their major subcontractors. It is also written to assist and inform the support team: architects, engineers, HVAC designer-installers and energy raters. The text assumes the reader is an experienced professional in a position of authority who intends to design, build and market successful zero net energy houses at a sustainable profit.
The houses at Dream Creek were built at very modest cost, and mostly with unskilled volunteer labor. As a result, the designs have been simplified and cost-optimized to the last possible penny, so that ZNE could be reliably achieved at equal or lower costs than past practices. The authors believe that by applying the approaches outlined in this book, profitable market-rate ZNE can be a reality without the often-assumed complexity, waste and cost.
The print version of Real-World ZNE Homes for California - January 2021 can be purchased on Amazon. A free PDF version of the eBook can be downloaded above.
Mar 24, 2023 Recording
Topic: ZNE Homes, Part 2: Project Outcomes & Lessons Learned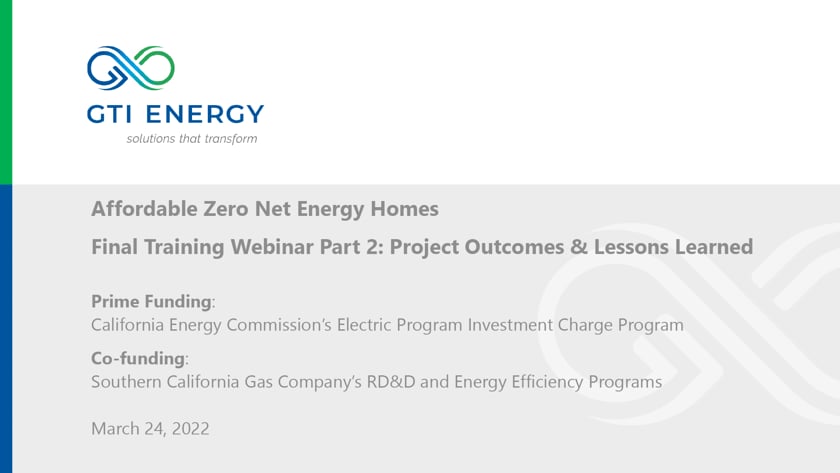 Ann Edminster is a leading international expert on zeroenergy, efficient green homes. Founder and principal of Design AVEnues LLC, Ann consults with builders, developers, homeowners, supply chain clients, design firms, investors, utilities, public agencies, and nonprofits — from local to international organizations.
Kristin Heinemeier is an Engineering Manager with Frontier Energy, Inc., with over 35 years of experience in buildings energy research. She has applied behavioral and HVAC technology research and stakeholder engagement to energy efficiency technologies, programs, policies, and best practices. Her work history includes positions with national labs, academic institutions, private industry, non-profit organizations, local governments, and community-based organizations. Throughout the seemingly random walk of her career, she has developed specialties in HVAC performance, code compliance, automated diagnostics, and the institutional and behavioral factors that influence HVAC contractors. She is an active contributor to ASHRAE, where she is a Fellow and recipient of the Distinguished Service award.
PAST WEBINARS — November 2020
Affordable Zero Net Energy Design and Construction Training Webinars
Our team presented best practices for designing and building highly efficient and economical zero net energy homes. The classes were developed as part of GTI Energy's Affordable Zero Net Energy (ZNE) home project, a collaboration with Habitat for Humanity of San Joaquin County. The project is sponsored by the California Energy Commission (CEC) and the Southern California Gas Company.
Topics included:
Designing to Get to ZNE Within Your Budget
High Performance Building Enclosures
High Performance HVAC for Affordable Zero-Net-Energy Homes
Webinar goals were to:
Become knowledgeable about the means of achieving ZNE affordably
Acquire methods and tools to develop high performance projects rather than business-as-usual
Learn specific innovations one central-California builder has used to achieve ZNE at costs less than business-as-usual
Be able to compare a mixed-fuel approach to ZNE with an all-electric approach, objectively assessing the pros and cons of each
Steve Easley is an internationally recognized construction consultant specializing in solving building science related problems and educating building industry professionals and their trade partners.  His work focuses on increasing quality of construction, sustainability, energy efficiency and reducing costly mistakes that least to construction defects and call backs.
Mike MacFarland, Energy Docs owner, has designed and overseen construction on over 20 local deep energy attic retrofits to existing homes. He has trained and mentored hundreds of students toward BPI and higher home performance standards.
Learn More
Contact Kaushik Biswas with any questions about the Affordable ZNE Webinar series.